I am an Irish, Manx, and English Canadian born in Chilliwack on unceded Stó:lō territory (in colonially named BC, Canada; see native-land.ca). My parents are both artistic folks in their own right and taught me an enormous amount about nature and how to conduct myself outdoors in relation to the rocks and roots and plants. I grew up in the forests of the Chilliwack River and Fraser River watersheds. My early communities included rural folks in the Fraser Valley, my family in the Okanagan, on Vancouver Island, and in the Alberta and Saskatchewan prairies, and the Mennonite community I was brought up among.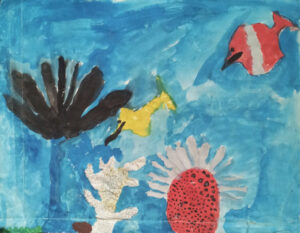 Early in my childhood and youth I spent much of my time being with the land and plant life in the Chilliwack River Valley. I drew frequently but not representationally. In my adolescence and young adulthood, I studied logic, math, philosophy, and programming and worked in this area. Later, while living in Saskatoon, I discovered philosophical Taoism and then Christianity. I became interested in liberation theology, interfaith dialogue, and inter-cultural metaphysics in general. During this time I lived in Chilliwack and briefly Victoria and was involved in photography, woodwork, lutherie, and ceramics, and I worked in graphic design.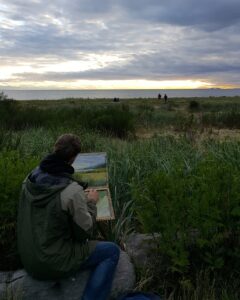 I began changing careers, and during my doctoral studies in counselling psychology I recovered my own sense of traditionality through my upbringing in the forest, faith traditions, and by learning about the colonial history of Canada and of the British in Ireland. Around this time I began focusing on painting. I had always drawn and painted a little but never representationally or with reference photos or plein air until around 2009. Having this connection made me very excited. I have been painting steadily since then and it has become my way of working through my own experiences and connections with land and situated being.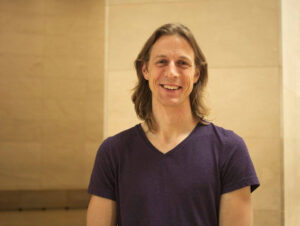 Today I am married to a wonderful, creative, and powerful woman and live and work gratefully in Vancouver on traditional, ancestral, and unceded Musqueam, Squamish, and Tsleil-Waututh territories. I mostly work in watercolour on paper, but I occasionally do larger format oil and acrylic on wood and canvas. I am an active member of the Federation of Canadian Artists.
In part adapted from:
Clegg, D. J., & Marker, M. (2021). The metaphysics of counselling history on colonized land. Canadian Journal of Counselling and Psychotherapy, 55(2), 232–257. https://doi.org/10.47634/cjcp.v55i2.71141

Clegg, D. J. (2020). A decolonial critique of metaphysics in counselling psychology education [University of British Columbia]. https://doi.org/10.14288/1.0392917